Character Map
Character Map is a window that displays all the characters available for editing.
Character Map looks like this: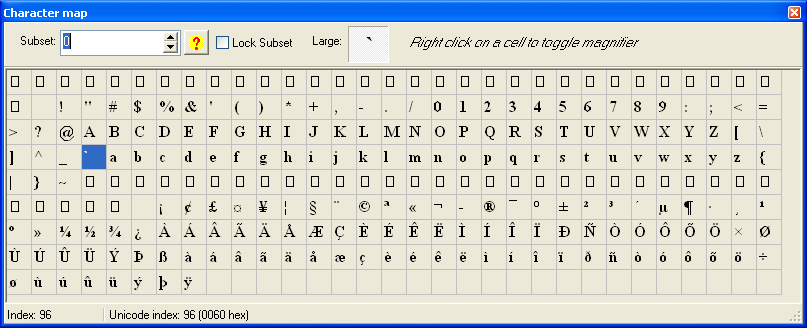 Selected character is a character that is assigned to the current key. If you want to change the assigned character, click on the desired different character. That character will be assigned to the current key immediately.
If you check the Lock Subset checkbox you will be able to lock subset to the current value. This is useful when you want to prevent Character Map from switching to different subsets while clicking on keys in the Keyboard Editor window.
At the top of this window there is a subset spin edit control. It displays and sets current Unicode subset for a key that is edited. This means that you can have both cyrillic and latin characters and many more on a single keyboard. This is disabled if you run this program under Windows 95, OSR/2, 98 and ME environment, because KBD file (which is Windows 95, OSR/2, 98 & ME keyboard layout file) does not support this feature.
Right to the subset control there is a large representation of a current character. At the bottom of the window there is a status bar that displays the index of the current character and its Unicode index. Under Windows 9x operating systems in place of Unicode index there is a key combination that produces this character.
This program is made by M. Vidakovic and I. Milijasevic. This program is shareware.